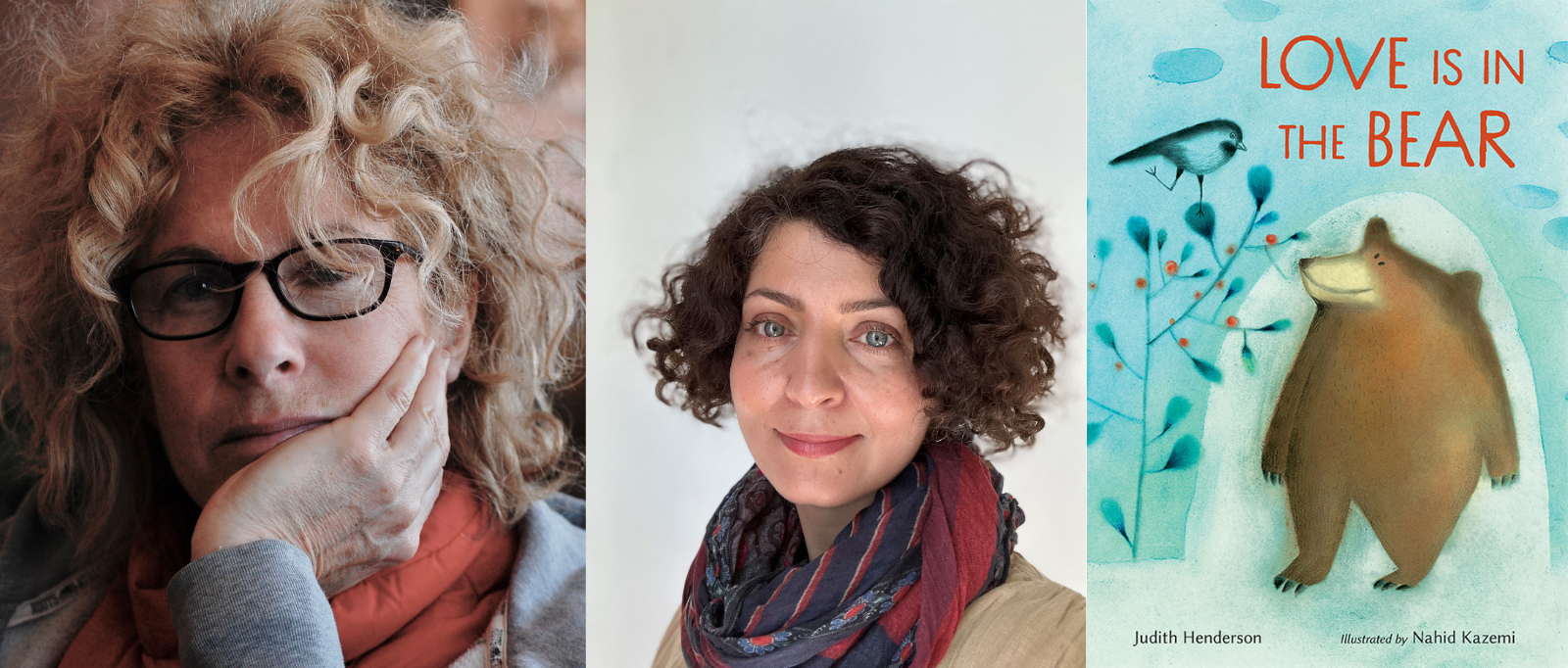 Creator Corner: Author Judith Henderson and Illustrator Nahid Kazemi
November 7, 2023
---
Welcome to Creator Corner, a blog series where we interview the creators of our recent books. For this post, we interviewed Love Is in the Bear author Judith Henderson and illustrator Nahid Kazemi!
Owlkids Books: When did you know that you wanted to be an author or illustrator?
Judith Henderson: I never aspired to being a children's author. But I've been a writer pretty much my whole career. First as a singer/songwriter. Then, as a creator/producer/composer in children's programming. It was only seven years ago, serendipitously, an offer was made to me from a children's publisher to write some picture books based on a broadcast concept I had pitched to their sister television production house. Of course, I said, yes! How hard can that be! Little did I know then, how challenging – what a specific artform writing picture books presented. But I know that years and years of writing, composing and creating children's content in the music and television industries were disciplines that prepared me.
Nahid Kazemi: I was a student at Art University and at the same time working in a literature magazine as a graphic designer. It was the first place I created my black and white illustrations for short stories which were published officially. Then, the chief editor of the magazine asked me to illustrate the story that he has written for kids. It was my first book to be published with the worst quality ever. But it made me feel that I belong to this job or it belongs to me.
OKB: Judith, what inspired you to write this book?
JH: Sitting with my incredibly talented illustrator friend, Nahid Kazemi—we loved to chat while sipping cappuccino's and yumming up chocolate croissants—we had always wanted to do a book together. "What would be your favorite thing for me to write about," I asked her.  She said, "Love." Well, who doesn't want to write about that…
OKB: Nahid, which spread was most challenging to illustrate?
NK: For Love is In The Bear, every single spread was a good challenge, But I remember the rehearsal spread was the most challenging. I changed it a few times to depict the right gesture.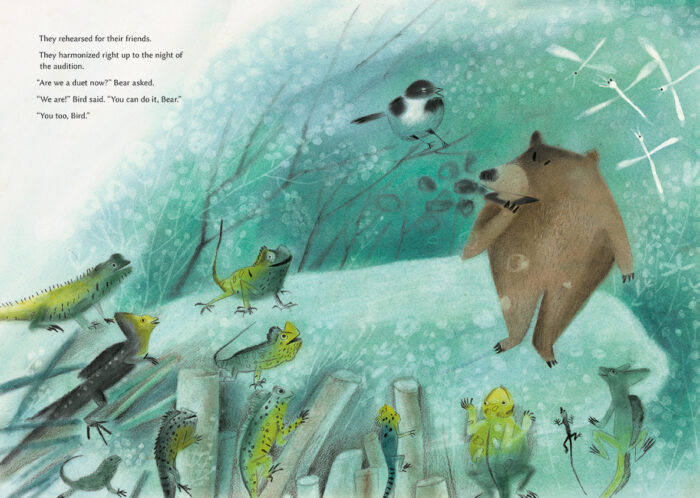 OKB: What do you both hope readers will take away from this book?
JH: As important as the apparent love is between Bear and Bird, I think respect and loyalty in a friendship, a true friendship, add balance. It is enduring.
NK: As the illustrator of the book, I love that aspect of the story which is about differences between lovers. Bear and Bird went through a lot but eventually, they accepted their differences and enjoyed loving each other. I hope children take that away.
OKB: What's a fun fact people may not know about you?
JH: I think I can fly. I mean, I've tried. Jumped out of my second story bedroom window into a snow bank. Jumped out of a helicopter (with skies) – also into a steep powdery slope.