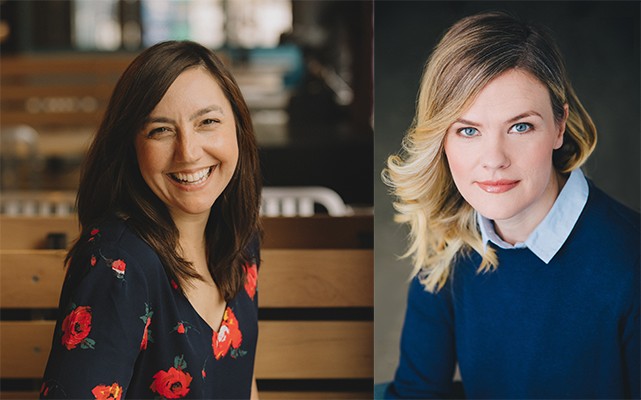 Creator Corner: Otis & Peanut author Naseem Hrab and illustrator Kelly Collier
May 23, 2023
---
Welcome to Creator Corner! Each month we interview the creators of one of our recent books. This month, we interviewed Otis & Peanut author Naseem Hrab and illustrator Kelly Collier.
Owlkids Books: Naseem, when did you know that you wanted to be an author?
Naseem Hrab: I have always wanted to be a writer … even before I could write! When I was a kid, a friend's dad always asked me what I wanted to do with my life. I would always respond with a writerly profession like a poet, a screenwriter, or a children's book author. Sometimes, I have to pinch myself! I can't believe I'm a real, live author!
OKB: What are your favorite things to write about?
NH: I love writing about feelings. Being a human can be pretty confusing, so I like to try to write books that can help readers process emotions, whether big [or] small.
OKB: Kelly, when did you know that you wanted to be an illustrator?
Kelly Collier: I always loved drawing as a kid, and by the time I was in high school I knew I wanted to work in the commercial arts. I knew I wanted to be an illustrator after my first year in college. By the time I graduated, making picture books was all I wanted to do! It would take quite a few years before I made a career out of it.
OKB: Which spread did you most enjoy illustrating and why?
KC: I don't think I have a favorite spread, all of it was fun to illustrate. But I really enjoyed drawing the scenes when Otis and Peanut had big feelings. Naseem's characters and words are so perfect—it's fun to bring them to life.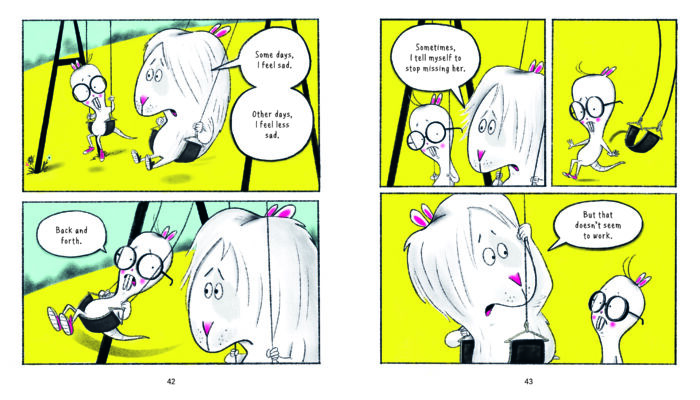 OKB: Which spread was the most challenging to illustrate and why?
KC: In a weird way – my answer is the same as above! It's really important, when the characters are having big moments of joy or sadness, that I get it right. Otherwise, the joke doesn't feel as funny, or a heartfelt moment doesn't feel as touching.
OKB: Naseem, what inspired you to write this book?
NH: I never planned for Otis and Peanut to be a book. Originally, I wrote the first story, The Haircut, for Chirp Magazine. The version of the story that appears in Chirp is called "Otis Needs a Haircut" and it was illustrated by Noémie Gionet Landry.
After that story appeared in print, Otis and Peanut kept talking to me, so I wrote down two more of their stories. It's the first time that the characters REALLY spoke to me, and it's been such a magical experience. Then Owlkids wanted to make the stories into books. We have two more Otis and Peanut books in the works, and each book contains three tales. It was only after Kelly Collier signed on to illustrate that we decided to make the books into graphic novels.
OKB: What do you hope readers will take away from this book?
NH: Even though Otis and Peanut are two separate characters, when they're together, they're kind of a single being. That is, we all have moments where we're exuberant and brave—and other times, we all have moments where we're feeling sensitive and introspective. I hope that readers will appreciate how much depth there is between these two friends. They're two sides of the same coin.
KC: That friendships are beautiful!
OKB: What's a fun fact people may not know about you?
KC: I love pineapple on pizza.
NH: Shhh … I think I might like revising my stories more than I like my writing stories.