January 2023: What's New With Owlkids?
January 31, 2023
---
Welcome to a new series on the Owlkids Books blog: our monthly review posts! Once a month, we'll be sharing recent reviews, award nominations, foreign rights deals, and other updates about our frontlist and backlist titles.
The first month of 2023 was a blur, but we have a lot to show for it! Our first starred review for spring, an array of book list selections, an Instagram book award win, exciting translation news — January was a hoot (sorry, I couldn't help it.)
First up, some exciting review and award news:
View this post on Instagram
The marketing department has been running full speed since the beginning of the new year! Here are a few things we're especially excited for:
We'll be participating in two virtual events this spring/summer: School Library Journal Spring Day of Dialog on May 18th, and School Library Journal Picture Book Palooza on July 27th! Keep an eye out for the registration links, and remember to visit our virtual booth!
We are currently working on teaching guides for seven of our spring titles! You can expect to see those on the Resources page of our website beginning in late February.
The sales and rights department kept busy this month with many tasks on the go. Here are some highlights:
Ukrainian rights were sold for The Weird Sisters: A Robin, a Ribbon, and a Lawn Mower.
Simplified Chinese rights were sold for Do Frogs Drink Hot Chocolate?, Do Lizards Eat Ice Cream?, and Do Fire Ants Fight Fires?.
Foreign editions: Copies of the Japanese edition of You Are Stardust and the Dutch edition of Trending: How and Why Stuff Gets Popular arrived and have been added to our growing Foreign Rights bookshelf.
Bologna Book Fair: We are about one month away, and we are continuing to book appointments. We have also started on our packing list for our title shipment. Check out the photo below for a peek at our booth banners!
Our Spring 2023 Rights Catalog is almost done! Keep an eye out for it here in February.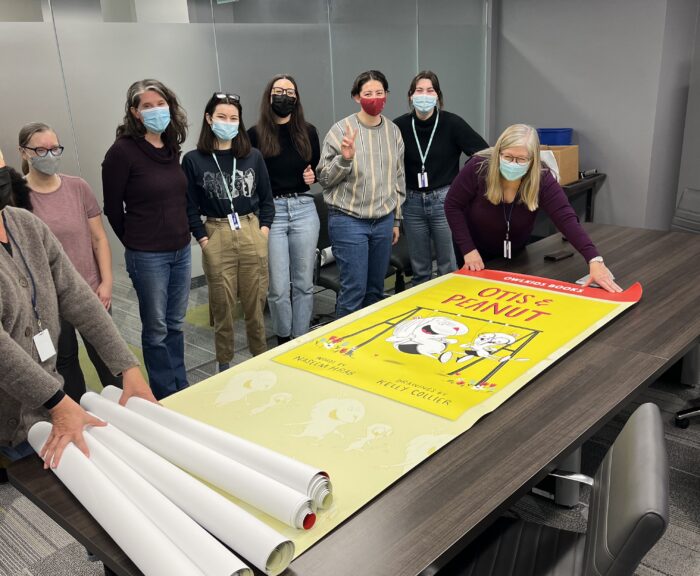 We'll check back in next month!
—The Owlkids Team