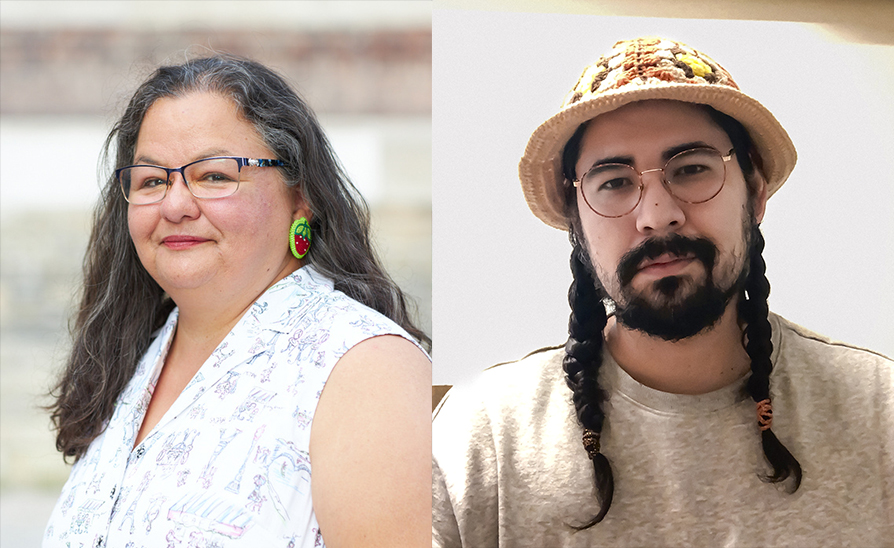 Creator Corner: Biindigen! Amik Says Welcome author Nancy Cooper and illustrator Joshua Mangeshig Pawis-Steckley
March 8, 2023
---
Welcome to the first of our Spring 2023 Creator Corner posts! As you know, each month we interview the creators of our recent books. This month, we interviewed Biindigen! Amik Says Welcome author Nancy Cooper and illustrator Joshua Mangeshig Pawis-Steckley.
Owlkids Books: When did you know that you wanted to be an author or illustrator?
Nancy Cooper: I've been writing since I was in my teens. The first time I got published was when I was 14. It was a poem about the death of Terry Fox. I've been fairly lucky in that writing has come quite easily for me. My undergrad was in English Literature which meant a lot of essays! I also started writing poetry and having my poems in various journals and anthologies in my 20's. It wasn't until about 6 years ago that I started writing for children. Becoming an author has really just landed in my lap. I like writing and I'm lucky that people like reading what I've written!
Joshua Mangeshig Pawis-Steckley: In my early career, I started out as a painter but have been slowly transitioning into more of an an illustrator since I've gotten into children's books. I love drawing landscapes and different lighting, which is something I never explored with my paintings. I feel it has really helped unlock a love for illustration I hadn't explored since childhood.
OKB: Nancy, what inspired you to write this book?
NC: It started as a pitch for Chirp [magazine] about a beaver whose cousins come to visit. It was inspired by my observations of beavers on the property I own near Minden, Ontario. I love watching beavers. They are very curious creatures. They are also very family oriented. Often 2 generations of kits live with their parents. After the Chirp story was published, I was asked if I would like to expand the story into a book and voila, Biindigen! Amik Says Welcome was born.
OKB: Joshua, which spread did you most enjoy illustrating?
JMPS: I really love scenes with sunsets that create beautiful lighting. For the peak of this story, I tried to get a nice golden hour setting going. My favorite one to draw was the "candid photo" of all the beavers laughing and smiling together. They are a really cute family!
OKB: Which spread was the most challenging to illustrate?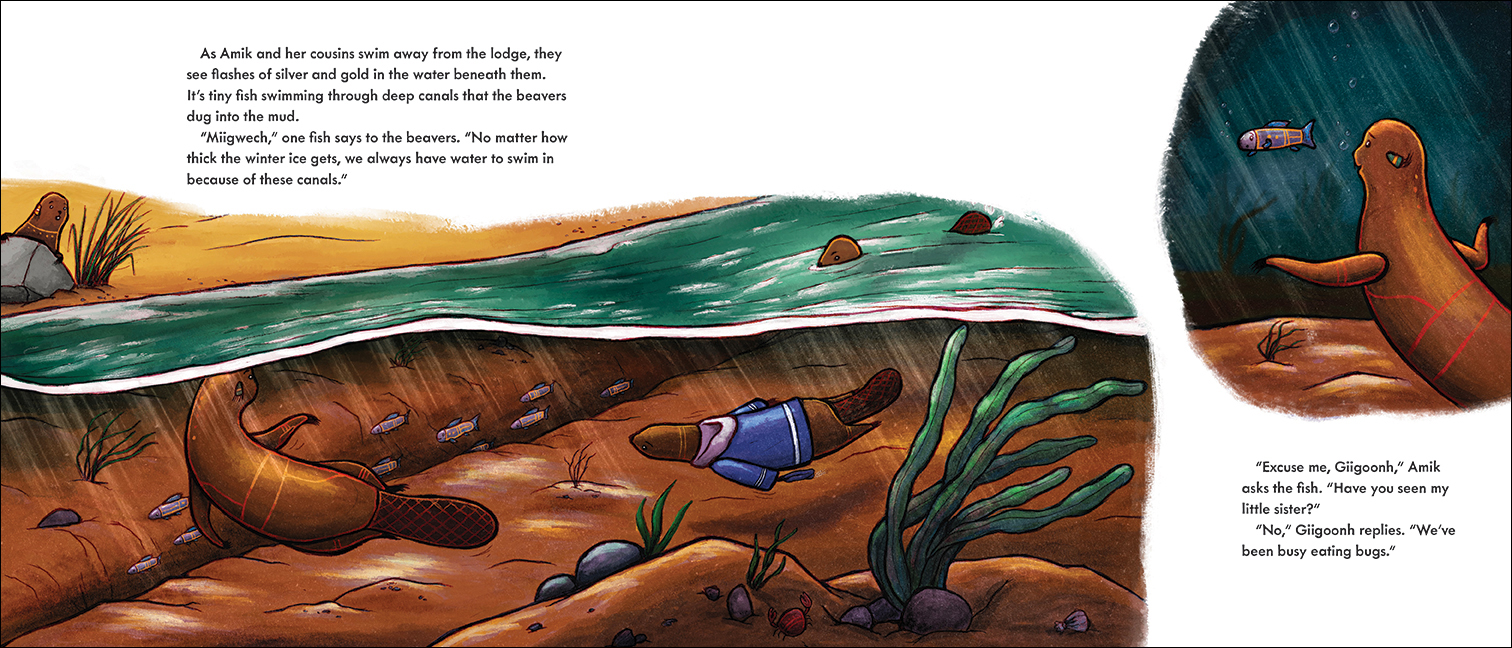 JMPS: The most challenging spread to illustrate was the underwater cutaway scene with the beavers talking to the fish. For the most part, the challenge was that there aren't too many reference photos you can use to get an idea of how it would all look. It took me some time to get the perspective and lighting just right, and I'm so happy with how it all turned out in the end.
OKB: Nancy, what do you hope readers will take away from this book?
NC: First of all, I really hope that readers enjoy the story. My own children loved stories where they had to find things in the pictures. I hope readers learn about reciprocity and some traditional knowledge. I also hope that people learn something new about just how important beavers are to the ecosystem.
OKB: What is a fun fact that people may not know about you?
JMPS: I lost my cat in the woods and she managed to find her way back home to me after 3 months! She has a knack for catching mice so I'm not surprised she was able to survive out there on her own. Reminds me of Nishiime hiding from her family and coming back when she was ready.
NC: Here are a few:
During the day I work at a provincial organization serving libraries in Ontario. I get to work with librarians from all 39 First Nation Public Libraries.
I'm a jewelry designer in my spare (ha) time.
I am a Two-Spirit person.
Biindigen! Amik Says Welcome publishes March 15, 2023!