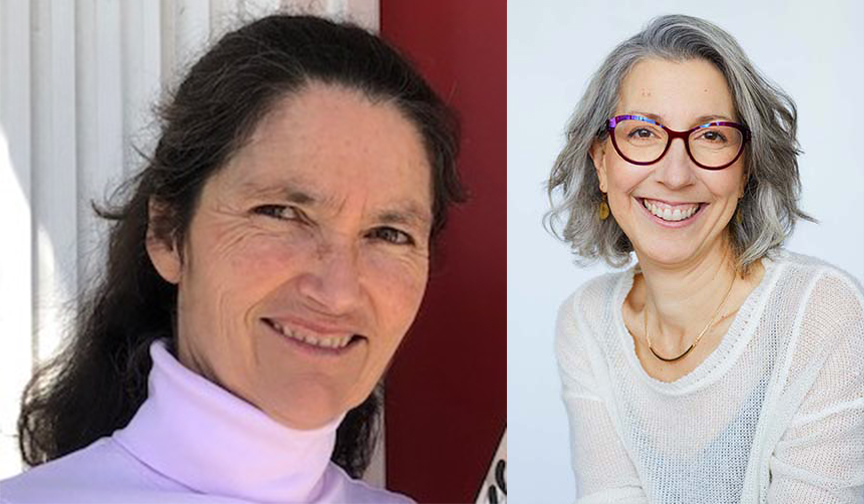 Creator Corner: Meet author Susan Hughes and illustrator Sophie Casson
March 8, 2022
---
Welcome to Creator Corner! Every month, we'll be interviewing the creators of our recent books. This month, we interviewed Same Here! author Susan Hughes and illustrator Sophie Casson. Their vibrant and sensitive introduction to kids from around the world and the lives they lead publishes April 15, 2022. This book also has an accompanying discussion guide available for download.
Owlkids Books: When did you know that you wanted to be an author or illustrator?
Susan Hughes: One summer, while I was a university student, I had the amazing opportunity to work alongside several other students for a small children's book publishing company—researching, writing, editing, and proofreading. By the end of the summer our small team had created several non-fiction children's books, one of which I'd helped to write—and that was it. I loved the whole experience from beginning to end. From then on, I began to write more seriously, hoping to be the author of my own children's books one day!
Sophie Casson: The love of drawing had always been with me, but at 20, I didn't know a creative career existed outside of fine arts. Through my graphic art studies I practiced illustration with some great teachers like Michèle Lemieux. I was an editorial illustrator before being a children's book illustrator. Reading stories to my children opened my eyes to the world of children's books. That was a great school for me and ignited my deep interest for it.
OKB: Susan, what inspired you to write this book?
SH: I often get ideas for book concepts while I'm looking at photos or reading articles for other projects. This is what I was doing about 12 years ago when I came across a series of photos of kids in different countries, all playing a version of soccer. There were differences between these kids—language, outfits, economic status, environment, age, gender—and yet they all clearly had something in common—the love of this game and the desire to play. Later, I found another amazing series of photos of kids sitting in their individual classrooms in schools around the world. Again, even at a glance, a story of differences and similarity shone through. Imagine a book for kids with many examples of how kids, different as they are in so many ways, are connected by some fundamental similarities! I knew I had to create a book for kids that expressed this powerful and important concept.
OKB: Sophie, which spread did you most enjoy illustrating?
SC: There were many … The opening pages of the chapter called "We all need to play" may be my favorite perhaps because I got to tell more in detail about this girl from Ghana than on other pages. I found it rewarding to create the graphic composition that leads the eye from her cooking activity to her playing soccer into her mother's dress, showing her thoughts. I lived in Africa as a child so I particularly enjoyed drawing scenes that reminded me of some of my experiences there.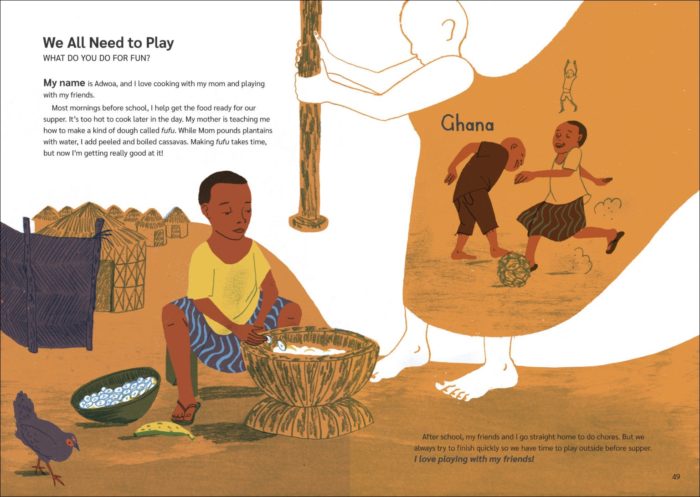 OKB: What do you both hope readers will take away from this book?
SH: I hope readers gain a better sense of the fundamental needs shared by all kids while discovering connections to the various characters in the book. I hope they'll participate in the conversation chain in each section by responding to the personal question posed to them at the end of each chapter. I hope readers spend time examining and thinking about not only the words the characters say but the visuals in the book—and that this inspires them to ask questions about identify, differences, equality, rights, needs … The list is endless!
SC: I hope that readers will find several children depicted who resonate with their own experiences, even in the ones that are so different from them. We understand others better when we see that we are similar in ways we hadn't thought of. I feel we are propelled in a world that is often focused on binary contrasts, so it is so very important to represent what makes us all alike in our humanity to be able to live together better.
OKB: What's a fun fact people may not know about you?
SH: I went skydiving once! Well, almost. A few years ago, my eldest daughter, who is a pilot, was working at a skydiving center and kept offering to take me up skydiving, something I've never done. One day, I convinced myself I'd do it—I'd do the brief prep offered at the center and then go for my first ever skydive (strapped to an experienced instructor, of course). But when I arrived, I walked up to the propeller plane, took one look at it, so tiny and without doors, and … nope. I knew I couldn't even go for a ride in it, let alone jump out of it!
SC: Living in Burundi in my teenage years, we would travel to neighboring Rwanda for holidays. On one trip, we went on a guided hike through the old-growth forest in the hope of seeing gorillas in their natural environment. After walking four hours one behind another in intense humidity, bent over to avoid the jungle of branches, pricking our hands on the trunks of enormous ferns and pulling giant red ants off our pants, the guide stopped us in our tracks and explained we had come upon a male gorilla. That meant the rest of the gorilla's group would be around. I was in the middle of the line so I couldn't see what was going on at the front. There was a sudden great roar that made everyone's hair stand on end and I heard "RUN!". We all spun around and ran for our lives. Feeling threatened, the male gorilla had stood with his arms in the air to signal that he was going to charge us. We made it back safely … but after all that effort and being so close, I hadn't seen the gorilla! I was so disappointed, but quite happy to be alive.