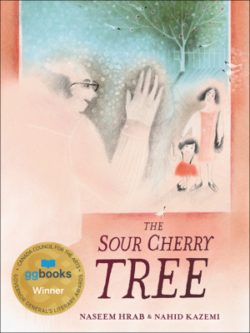 The Sour Cherry Tree wins the Governor General's Literary Award for Young People's Literature—Illustrated Books
November 16, 2022
---
We are so excited to announce that The Sour Cherry Tree, written by Naseem Hrab and illustrated by Nahid Kazemi, has been named the winner of the 2022 Governor General's Award for Young People's Literature—Illustrated Books!
Inspired by the author's own memories, The Sour Cherry Tree is a picture book about a girl's trip to her recently deceased grandfather's house. As she explores each room, the items she comes across evoke memories of the special relationship she shared with her baba bozorg. The book is a heartwarming look at love and loss, centred on the experiences of a child and infused with elements of the Persian backgrounds of both the illustrator and author. The Sour Cherry Tree's previous accolades include being named a White Raven 2022; a Best Picture Book of 2021 by The Globe & Mail, CBC Books, Kirkus Reviews, and USBBY; and starred reviews from Booklist, School Library Journal, and Quill & Quire.
Read our full press release for more information about the book, and a few words from the creators about this momentous win!