A Last Goodbye
---
A Last Goodbye is a compassionate exploration of all the ways animals – like humans – face change, loss, and grief. New from the creators of You Are Stardust, Wild Ideas, and You Are Never Alone.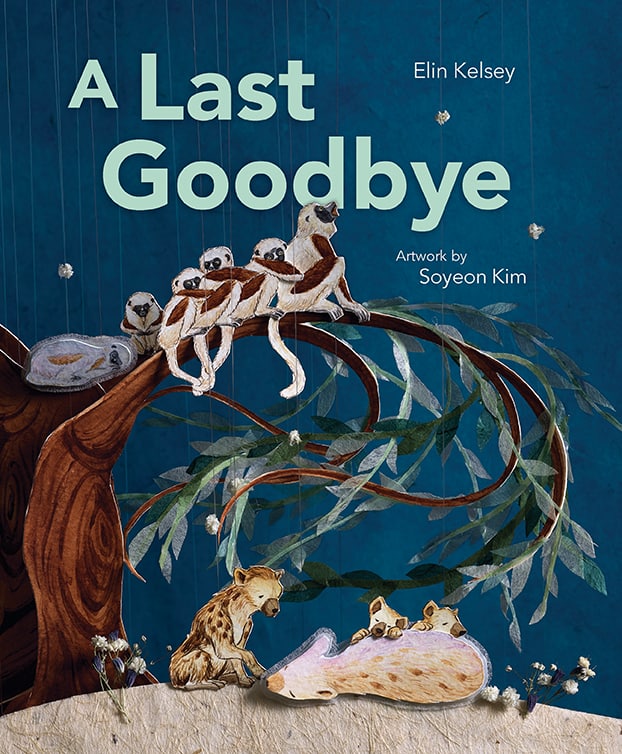 Published April 2020
9781771473644 • 32 pages • Ages 4+ • $18.95 US • $19.95 CDN
How can we cope with feelings of loss? How do we say goodbye to a loved one after they die? This book broaches a difficult topic in a heartfelt way by exploring the beauty in how animals mourn. From elephants to whales, parrots to bonobos, and lemurs to humans, we all have rituals to commemorate our loved ones and to lift each other up in difficult times of change and loss.
New from an award-winning team, this book gently recognizes death as a natural part of life for humans and all animals. Written in spare, poetic language and illustrated with stunning dioramas, it draws out our similarities with other animals as it honors the universal experience of mourning. The touching and uplifting book ends on a hopeful note, showing how we live on, both in memories and on the planet, our bodies nourishing new life in the Earth and the oceans.
"Scientifically sound and philosophically profound."
—Kirkus Reviews,
STARRED REVIEW
"Thoughtful and eye-opening."
—School Library Journal
"This stunning picture book is unusual in many ways, from its unique and seldom-explored topic to the illustrations done in collage and created using dioramas."
—Booklist
Themes, Curriculum Links, and Reading Levels
---
Grief, death, and loss
Social-emotional learning
Animal behavior
Nature and the environment
Inquiry-based learning
Science: Life Science; Animals; Environment; Biology; Life Systems
Language Arts: Skills and Strategies
Grades: 2–5
Lexile: 610L
Fountas & Pinnell: O
Using A Last Goodbye to Explore Grief and Loss with Children
---
Childhood grief expert and registered psychotherapist Andrea Warnick shares strategies for using A Last Goodbye to explore grief and loss with children.
Behind the Scenes – How A Last Goodbye Was Illustrated
---
How do 3D dioramas become 2D illustrations for a picture book? Explore the magic behind this process with the Owlkids Books creative team. A Last Goodbye was written by Elin Kelsey, illustrated by Soyeon Kim, designed by Alisa Baldwin, and edited by Mary Beth Leatherdale, with editorial direction by Karen Li.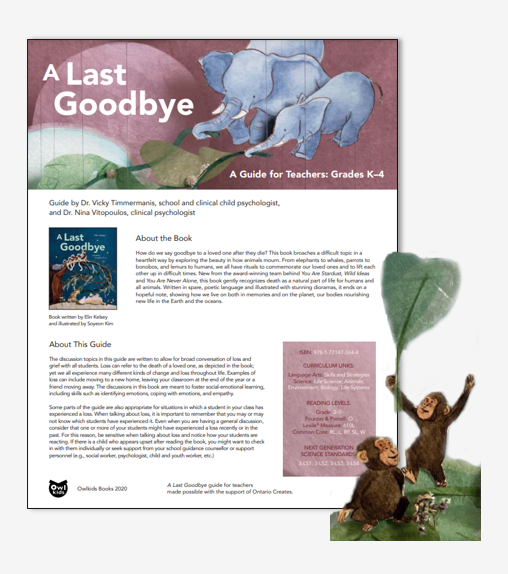 Resource for Educators
---
A guide for A Last Goodbye with discussion questions and lessons designed for use in schools and libraries, co-authored by:
Dr. Vicky Timmermanis, PhD – school and clinical child psychologist currently working with youth at the Toronto District School Board.
Dr. Nina Vitopoulos, PhD – clinical psychologist with a practice focused on supporting young people and families through difficult life events including loss.
What the Experts Are Saying
---
"A Last Goodbye goes a long way towards helping children to understand that grief is not only a natural and healthy experience, but also a universal one. It beautifully depicts how the death of one generation nurtures future life, and that the connections between us and those we love transcend death."
— Andrea Warnick, childhood grief expert and registered psychotherapist
"A Last Goodbye celebrates the beautiful ways other animals care for one another at the end of life. It mindfully opens up avenues for children to talk about death through the exploration of animal emotions and relationships."
— Marc Bekoff, PhD, author of The Animals' Agenda, The Animal Manifesto and The Emotional Lives of Animals
"A Last Goodbye is as moving as it is beautiful… Not only will readers of this book learn about how animals deal with death, but they will learn that they are not alone in their grief. Highly recommended."
— Dr. Timothy Poore, Assistant Clinical Professor of Medicine, University of California, San Francisco, and palliative care doctor, UCSF Medical Center and UCSF Benioff Children's Hospitals
About the Author & Illustrator
---
ELIN KELSEY, PhD, is an award-winning author and a leading spokesperson for hope and the environment. In 2014, she co-created #OceanOptimism, a Twitter campaign to crowd-source and share ocean conservation successes which has reached 90 million users to date. She frequently works on projects with the Monterey Bay Aquarium, Stanford University and the University of Victoria and is passionate about engaging kids in hopeful, science-based, environmental solutions.
SOYEON KIM is a Toronto-based, Korean-born artist who specializes in fine sketching and painting techniques to create three-dimensional dioramas. She is a graduate of the Visual Arts and Education programs at York University.