You Are Never Alone
---
A lyrical and scientific exploration of the ways kids are supported by nature, from the creators of You Are Stardust and Wild Ideas.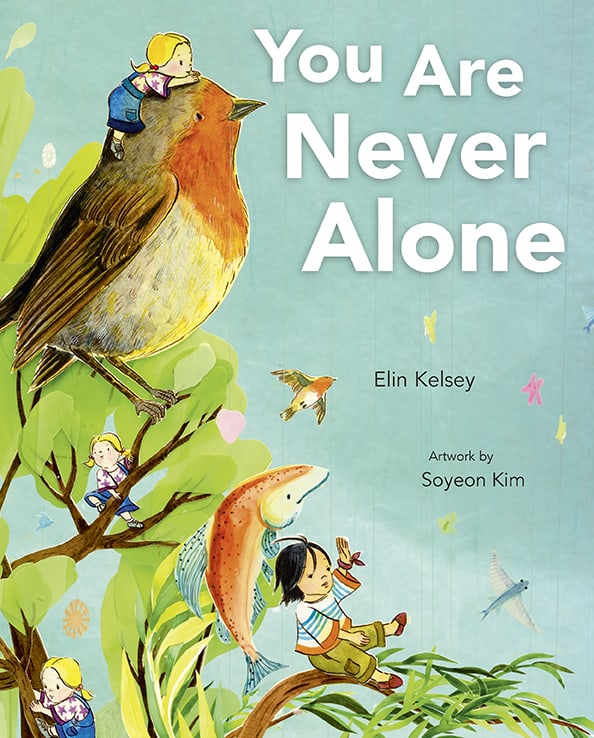 Published April 2019
9781771473156 • 32 pages • Ages 4+ • $18.95 US • $19.95 CDN
You Are Never Alone is a picture book that explores how humans are inextricably connected to nature.
Drawing examples from the clouds and the cosmos, the seafloor and the surface of our skin, it explores how we are always surrounded and supported by nature. Whether it's gravity holding us tight; our lungs breathing oxygen synthesized by plants; the countless microorganisms that build our immunity; or the whales whose waste fertilizes the plankton that feed the fish we eat: nature touches every aspect of how we live.
Using lyrical text grounded in current science alongside detailed diorama art, this informational picture book presents the idea that we thrive through connections to the land and sea and sky, and togetherness is key to nature. It encourages inquiry-based learning, inviting readers to wonder, ask questions, observe the natural world, and engage with big ideas.
"Every moment this beautiful planet showers you with gifts."
Themes, Curriculum Links, and Reading Levels
---
Nature and the environment
STEAM
Inquiry-based learning
Ecosystems and symbiosis
Animal behavior
Science: Life Science; Animals; Environment; Biology; Life Systems
Language Arts: Skills and Strategies
Grades: K–5
Lexile: 820L
Fountas & Pinnell: S
Behind the Art with Illustrator Soyeon Kim
---
Soyeon talks about the process of creating the diorama artwork in You Are Never Alone.
Behind the Science with Author Elin Kelsey
---
Elin explains the scientific research behind three poetic lines in You Are Never Alone.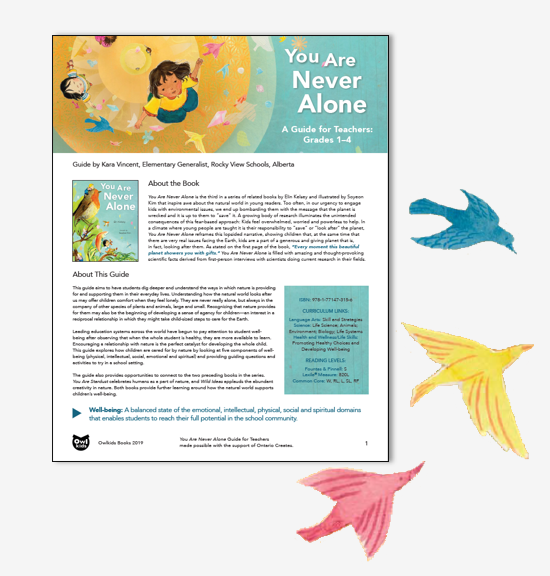 Resource for Educators
---
Use You Are Never Alone in schools and libraries with this guide created by an elementary educator with a research background in environmental science.
About the Author & Illustrator
---
ELIN KELSEY, PhD, is an award-winning author and a leading spokesperson for hope and the environment. In 2014, she co-created #OceanOptimism, a Twitter campaign to crowd-source and share ocean conservation successes which has reached 90 million users to date. She frequently works on projects with the Monterey Bay Aquarium, Stanford University and the University of Victoria and is passionate about engaging kids in hopeful, science-based, environmental solutions.
SOYEON KIM is a Toronto-based, Korean-born artist who specializes in fine sketching and painting techniques to create three-dimensional dioramas. She is a graduate of the Visual Arts and Education programs at York University.